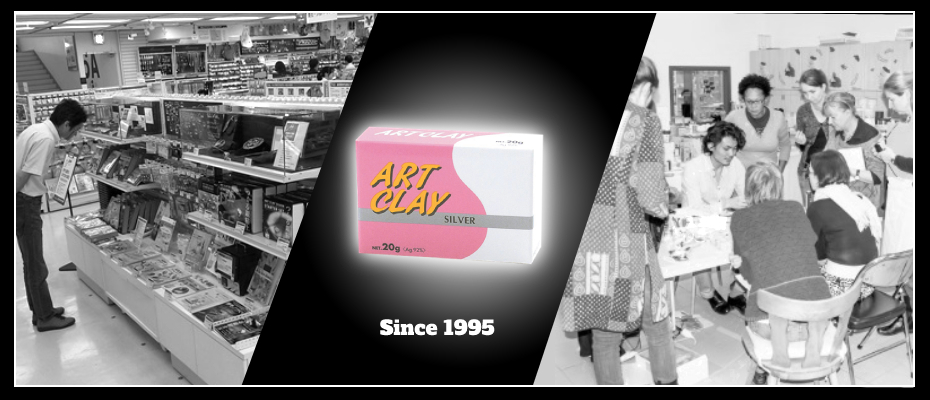 History background of Art Clay Products

The revolutionary metal clay material was developed in 1995 from precious metals recycling business by Aida Chemical Industries Co., Ltd. with a sincere wish if many people in the world could enjoy jewelry making with own design.

In April 1995, Art Clay products were first introduced to the public at Tokyu Hands in Tokyo. Tokyu Hands is a major art/craft retail supply chain in Japan.

In June 1996, Art Clay Studio opened in Tokyo. The first Art Clay workshop was held at our new learning headquarter. Art Clay came to be known as the amazing, magical, DIY material that anyone could use to make jewelry without traditional metalsmithing equipment.

2020 marks Art Clay's 25th anniversary. It is used all around the world in more than 47 countries. As the manufacturer, Aida Chemical Industries aims to keep developing new possibilities and experiences for people to enjoy creating their own expressions.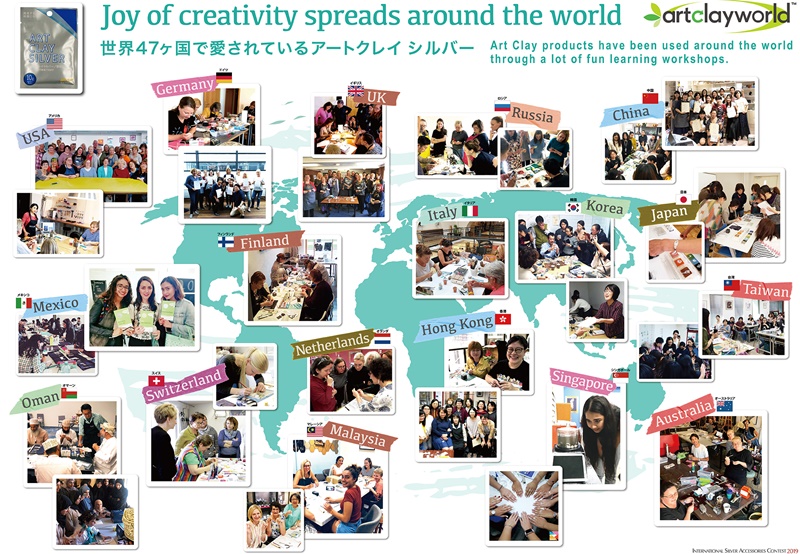 Here, let's take a look back the history of Art Clay product package designs since 1995. Since 1995, we have changed our packaging designs to compliment the continuous improvement of our products.

In 1995
Art Clay Silver and Art Clay Gold K22
The clay'turns into Fine Silver after firing' changed the world of handmaking. The first package had plastic container, then changed to paper package. Streamline design represents softness of Art Clay Silver. A big pack of 100g and 1kg were available in the first generation years. In the same year, Art Clay Gold Clay went on sale as well.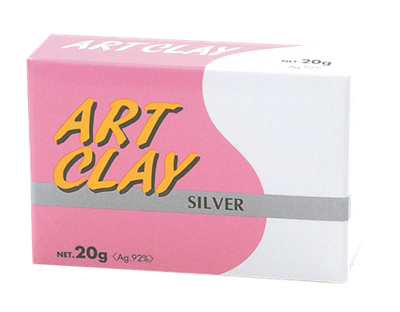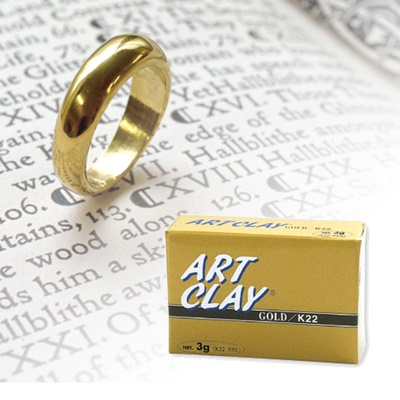 In 2000
Art Clay Silver Slow Dry Type
The Slow Dry gave a longer working time, so you can twist, and weave without cracking.
The fresh blue color package was applied to represent a feature of keeping moisture in the clay. The Slow Dry clay became popular among many silver clay beginners.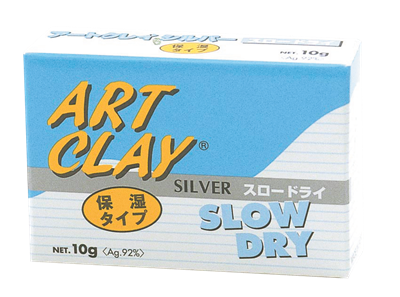 In 2001
The totally new material,Art Clay Silver Paper Type
The revolutionary silver in paper form realized easy 'ORIGAMI' expressions which had been difficult to make with standard Art Clay or solid metal sheet forming.
Many new creations and techniques have been developed with Paper Type by folding, bending, and punching.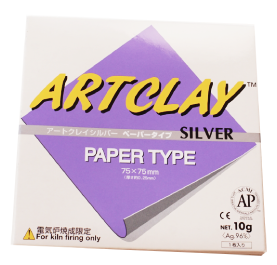 Art Clay Overlay Silver Paste opened new doors of silver painting
A direct silver painting on glazed porcelain and ceramic became a lot easier and more familiar.
The Overlay Silver Paste is water-based so you can re-do paiting by wiping off, builing up silver layers and control liquid consistency easily while painting.
The white package applied image color of porcelain and a milk crown design represents silver drops of Overlay Silver Paste.
Silver Overlay Certification course was developed in 2002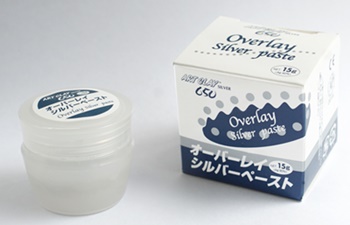 In 2002 & 2004
Art Clay Silver 650 series
All Art Clay Silver series applied a low temperature (650℃) firing formula. The red hot 650 flame logo represents new technology and exciting option of new firing schedule. This big change gave more firing combination with sterling findings, glass, and ceramics. Plus, the new super fine silver powder gives more luster after firing.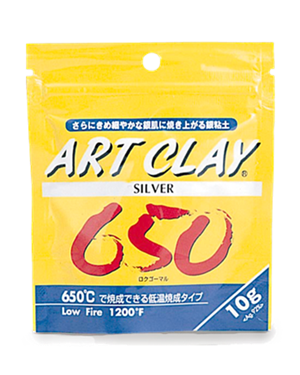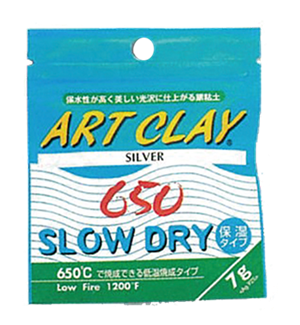 Art Clay Silver Slow Tarnish series
The world's first developed silver clay with anti-ternsh feature was released. The clay tarnishes much slowly, and finished silver luster stays much longer. So they have been popular for using display works, and special gift.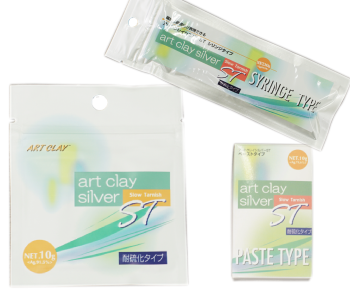 In 2005
Art Clay Gold Paste gave gorgeous value
Art Clay Gold Paste gave easy way to add real gold on the silver surface, glazed ceramics, and galss. Color after firing looks almost as shiny as fine gold.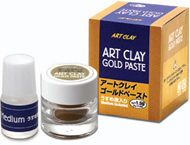 In 2006
New ART CLAY SILVER logo in gothic font applied
10 years after the first Art Clay Silver went on sale, the new ART CLAY SILVER logo in simple and sofisticated style applied on the packages.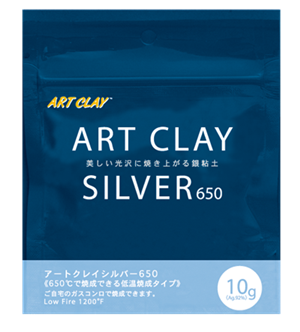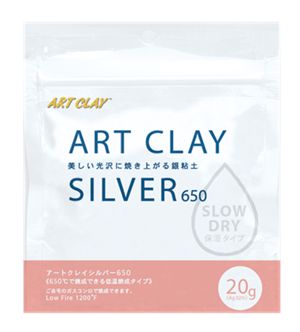 In 2009
Art Clay Copper and Art Clay Silver Lite
Art Clay Gold Paste gave easy way to add real gold on the silver surface, glazed ceramics, and galss. Color after firing looks almost as shiny as fine gold.

3 years after, a beautiful combination of Copper and Silver technique; the New Mokume Gane certification course was developed in 2011.

Art Clay Silver Lite had an unique feature that turns into same volume appearance but had a half weight of standard Art Clay Silver after firing. Therfore, they were suitable to make object works or general goods.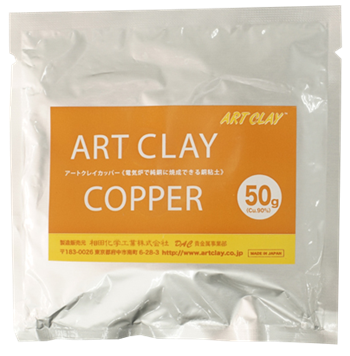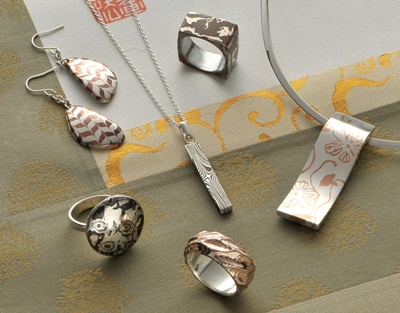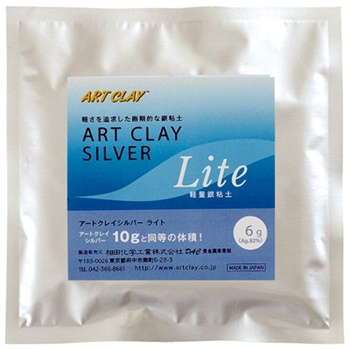 In 2012
Art Clay Silver merged 3 fomula as one new series
10 years after 650 series went on sale. The new formula Art Clay Silver series was released merging the best features of Art Clay Silver Original, Slow Dry, and 650.
A flexible clay workability, a good moisture control, and a low temprature firing option became as standard in Art Clay Silver.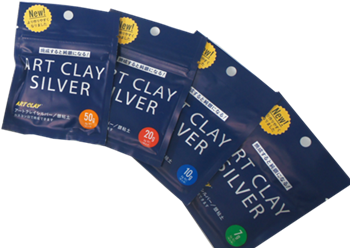 In 2015
Art Clay Silver New formula Paste Type
At the time of production finish of Art Clay Silver Oil Paste, Art Clay Silver new formula Paste Type went on sale. A great additional feature is that you can join fired Art Clay Silver pieces together. The Paste is water-based, so you can use the same Paste from molding to repair. No matter it is before or after firing.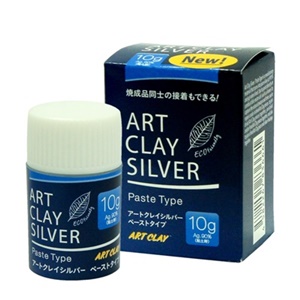 Art Clay Silver Paper Type Long
The Paper Type Long was released as special product for 'Silver Quilling' technique. The Silver Quilling; the new combination of traditional paper quilling and silver clay making techniques.

Art Clay Silver Quilling certification course was developed in 2015.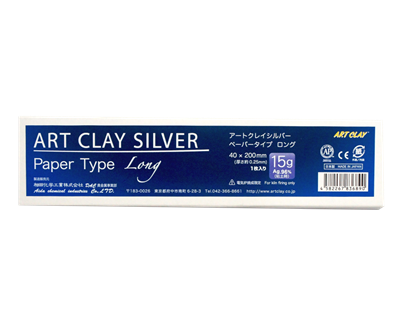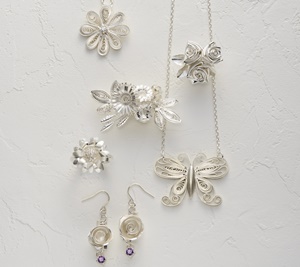 In 2016
Fresh new Silver color applied for
Art Clay Silver series packages
Dark navy color packages available since 2006 had a change to the fresh silver color as new icon of Art Clay Silver series products.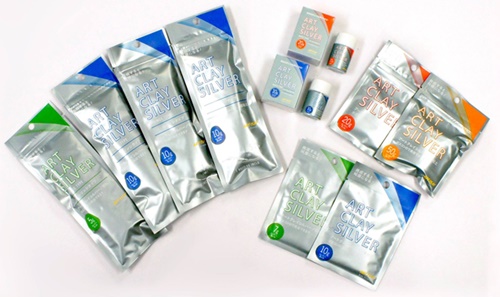 Art Clay Silver 950 in a pre-mixed Silver & Copper in clay form. High strength, and high hardness
Art Clay Silver 950 was developed for matching demands from professionals. Silver 950 formula achieves approx. 60% more strength than standard Art Clay Silver. This feature makes less scratch on the silver surface, and a mirror finish lasts longer.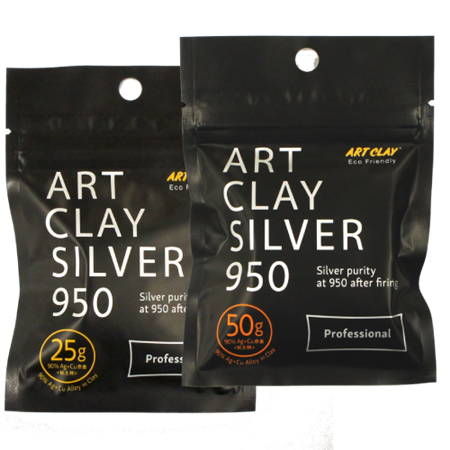 In 2017
Art Clay Silver Paper Type Plus
Art Clay Silver Paper Type Plus is approx. 2.5 times thicker than the original Paper Type. This thickness allows to make sharp and beautiful edges for folding dimensional structures like Japanse traditional hobbycraft ORIGAMI. Paper Type Plus lets artists enjoy creative expressions that had been difficult to form using the original Paper Type or traditional metalsmithing techniques.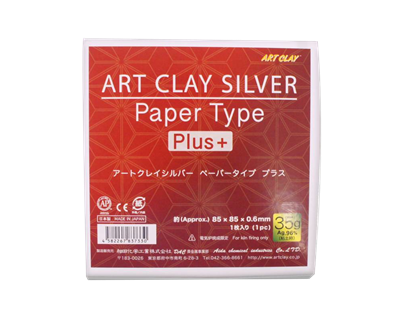 Art Clay ORIGAMI Jewellery certification course has developed in 2017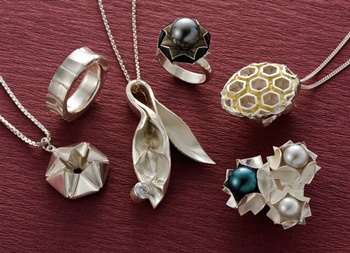 In 2022
Art Clay Bronze
Art Clay Bronze is a clay material to make a wide range of pieces such as jewelry, craft designs, and objects like sculptures and models. Art Clay Bronze must be fired in an activated carbon under reducing atmosphere using a programmable electric kiln, with the resulting fired piece being solid alloy (Copper 90%, Tin 10%).